Plant Trees - Save Lives
We're incredibly proud to have partnered with the Eden Reforestation Projects 501(c)3 (nonprofit) – to plant 10 new trees for every single Cork Space mat made. Trees are planted around the world; in Nepal, Madagascar, Haiti, Indonesia, Mozambique and Kenya to re-forest land, provide local employment and new habitats for wildlife.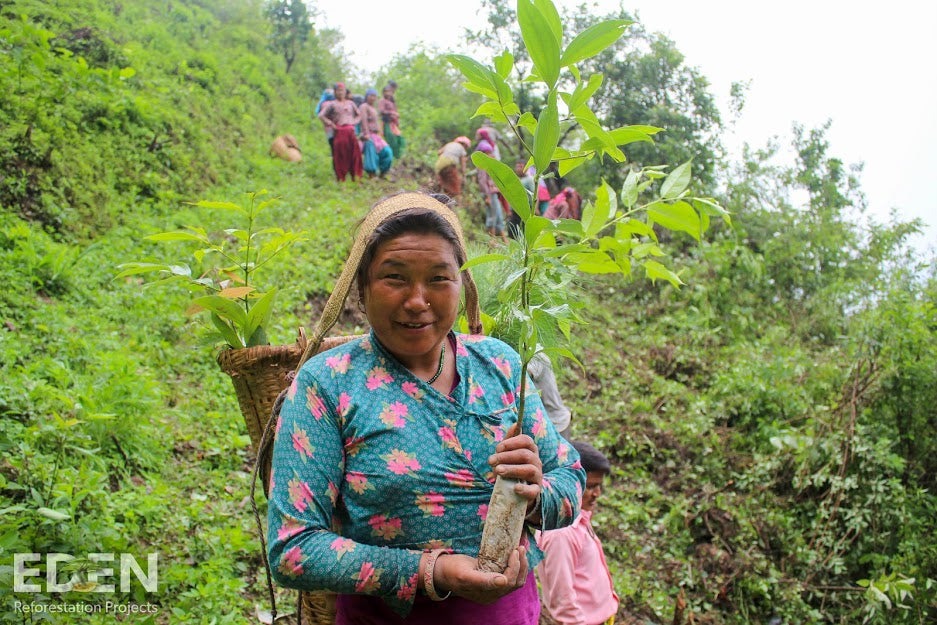 The eden project solves two major issues of unemployment and de-forestation by hiring local people directly to train and plant trees in their local area.

The people behind the tree planting are just as important, and the Eden Reforestation Projects helps those out of poverty to earn a consistent wage. This gives them a decent income so they can provide for their families again.

The Employ to Plant methodology of employing the local community to reforest their own environment fosters a deep connection between the community and the land. Reforesting and protecting the land encourages the local communities to invest in the success and growth of the trees, which they begin to love and care for.
Planting trees really does make a difference. As trees are planted and healthy forests begin to form, wild animals have more space for their habitat and landscapes bio-diversity begins to re-emerge.
Just some of the Key Benefits of Tree Planting:
Removes & store carbon from the atmosphere
Restores vital habitat for a wide array of endangered species such as the Madagascar Lemur & Nepalese Bengal Tiger
Enhance air quality and improve the urban heat island effect by reflecting sunlight and providing shade
To date Cork Space donations have planted over 53,186 trees (view proof) and funded 550 workdays - with your help we're aiming for 250,000 in the next 3 years. Let's do this!